Strong Future International (SFI) keeps enhancing its affiliate program with the addition of Privacy Maxx. Learn how you can capitalize on the growing ID protection market as an SFI affiliate..
Now has never been a better time to become an SFI affiliate. The Tripleclicks marketplace continues to grow and exceed expectations, while Pricebenders is steadily moving into the limelight and gaining more popularity in the penny auction realm.
If you thought life was good as an SFI affiliate, now there's news that an Identity Theft Protection service has been added to the line-up.
Why an Identity Theft Protection Service?
Can you imagine using your debit card without covering up the keypad from prying eyes? Well of course not. There's just too many people out there who want a free ride at your expense.
Not only do you have to worry about the people around you when you use your credit/debit card, but you have to worry about the breaches at websites where your confidential information is held.
Just recently the IRS had such a breach. If that's not scary, then what is? See story here.
There's even been cases where briefcases and laptops that contained people's private information have been lost. Here are just two stories: The I'm Sorry I Lost My Briefcase Letter and Oops, I Compromised Your Private Info…
It's bad enough that there are people entrusted with your confidential info walking around with it, it's worse when they do careless things like leave it laying around in car!
Are You Next?
If you've never gotten a letter from a financial institution saying that your confidential information may have been exposed, then you're among the minority.
I myself have gotten several letters over the years from my banks and credit card companies saying that my confidential information may have been exposed through a breach in their website. I even got one of those "briefcase" letters I mentioned above.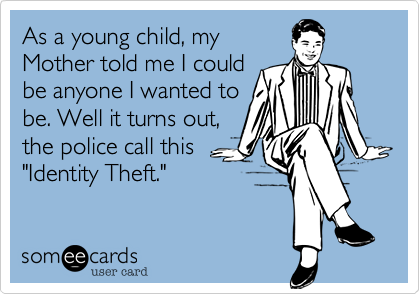 It's like this…
Sooner or later, you're gonna get a letter too if you haven't already. Odds you may know someone who's had their identity stolen.
It's unfortunate that the demand for identify theft protection is growing – and it's not going away anytime soon. You see, there's big money to be made by crooks with stolen information. It's a billion-dollar industry that's costing banks, credit card companies, and people like you and me big time.
There is a way you can help people not become victims of identity theft and that's through SFI's new product affiliation with Privacy Maxx.
What Does Tripleclicks Privacy Maxx Do?
First of all, the special with Privacy Maxx is customized exclusively for TripleClicks customers. This deal is not available on Privacy Maxx's website.
Family Identity Theft Protection
This is a very pro-active identify theft plan in that it:
Provides three full years of coverage for their entire family
Has a Proactive Monitoring System that will alert them to potential issues before an ID theft occurs
Has a fully-managed Family Identity Recovery and 12-month post-monitoring service
Has a generous $25,000 expense reimbursement policy
…all for a one-time payment of just $199!
It's a great deal for anyone who's concerned about their identity being stolen.
Are You Afraid You Might Be the Next Identity Theft Victim?
If you're troubled by the rising crime of identity theft, then you'll want to get in on this great Privacy Maxx deal by going here.
How You Can Be a Part of the Lucrative Identity Theft Protection Marketplace
If you ever want to make money online without the struggle, you've got to find a product/service that is in demand and that people are already buying.
I've seen too many people do the opposite and then wonder why they're having a hard time making money in their business.
It's like swimming upstream when everyone else is swimming downstream.
It Gets Easier
It's a no brainer to see that identity theft protection is a hot evergreen niche that continues to grow exponentially.
With the introduction of Privacy Maxx in the Tripleclicks marketplace, as an SFI affiliate you have another money-maker that can produce yet another income stream for you.
[stextbox id="info"]
Click here if you're not already an SFI affiliate. You'll want to join ASAP so you can be among the first to offer Privacy Maxx to your circle of influence…
[/stextbox]
Generous Commission Structure
If you ever wanted to get in on the growing identity theft protection market, now here's your chance to earn a great commission.
As an SFI affiliate, you get $33.75 for each Privacy Maxx protection plan sold. You also get a generous 5,600 Versa Points (VP). You'll want to refer to the SFI comp plan here.
In an industry where you're paid a few dollars as an affiliate/distributor for products, it's nice to know that there's a company like SFI that's going to give you a much higher than average commission for selling something that is such great demand as an identity theft protection product.
How to Get Started Making Money With Privacy Maxx Identity Theft Protection…
If you're already an SFI affiliate, all you have to do is get your Privacy Maxx marketing tools here.
If you're not already an SFI affiliate, you can get started quickly at no cost here.
You Can Help…
Identity fraud is a crime that continues to skyrocket with no end in sight. You now have the ability to help prevent yourself and your family from becoming victims of this growing criminal activity.
As an affiliate, you can do your part and spread the word about how Tripleclicks Privacy Maxx can help prevent identity theft.
With the addition Privacy Maxx to its lineup, SFI continues to grow and provide more ways for its affiliates to generate multiple income streams.
Rock on SFI!